Michael Meijer wint de eerste voorronde De Slimste Scheikundige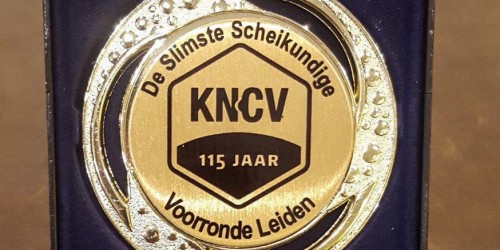 Thursday 22 February 2018

15:54
De eerste voorronde van De Slimste Scheikundige in Leiden is gewonnen door Michael Meijer, promovendus anorganische chemie aan Universiteit Leiden. In de allesbeslissende laatste ronde liet hij iedereen achter zich. Hij gaat door naar de finale op 9 oktober met Philip Freriks, waar hij zich gaat meten met de winnaars van de vijf andere voorrondes.
Wil jij ook je chemische kennis testen of gewoon een gezellige avond hebben met chemische vrienden? Meld je dan nu aan voor een van de resterende vier voorrondes in Terneuzen (9 april), Enschede (15 mei), Geleen (29 mei) of Oss (7 juni). Meer informatie en inschrijven: www.deslimstescheikundige.nl!

Michael (midden) met zijn teamgenoten uit de eerste vragenrondes.