Tijdens het najaarscongres van de NVBMB, is de H.G.K. Westenbrinkprijs 2016-2017 uitgereikt aan Dr. Lotteke Swier voor haar proefschrift "On the transport mechanism of energy-coupling factor transporters" (promotor: Prof. dr. D.J. Slotboom en Prof. dr. B. Poolman, Rijksuniversiteit Groningen). Dr. Swier's proefschrift betreft een zeer veelzijdige studie naar het werkingsmechanisme van de ECF transporters, die behoren tot de grote familie van ABC transporters. Zij heeft de kristalstructuren van een membraan gebonden ECF transporter zonder en (voor het eerst) met een vitamine substraat bepaald. Hiermee heeft zij het zeer complexe transportmechanisme ontrafeld. Tevens heeft zij op basis van de kristalstructuren een serie gemodificeerde vitamines ontworpen en gesynthetiseerd die als remstof fungeren en daarmee mogelijk tot nieuwe antibiotica kunnen leiden. De jury, onder voorzitterschap van prof. Saskia van der Vies, was onder de indruk van de veelheid van disciplines zoals biochemie, organische chemie, en structuurbiologie die Swier beh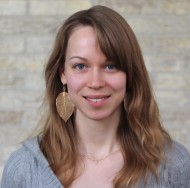 eerst en de technische en wetenschappelijke hoge kwaliteit van het onderzoek.
De H.G.K. Westenbrink prijs wordt ieder jaar door de aan de NVBMB gelieerde Stichting Stimulering Biochemie Nederland (SSBN) uitgereikt voor het best proefschrift in de biochemie en moleculaire biologie van het academische jaar.
The H.G.K. Westenbrink prize was established by the Stichting Stimulering Biochemie Nederland (SSBN) and is awarded each year to the best thesis in the area of biochemistry and molecular biology of the previous academic year. The prize will be handed out during this year's NVBMB fall symposium (see below).