KNCV zoekt chemietalent voor Gouden Medaille 2018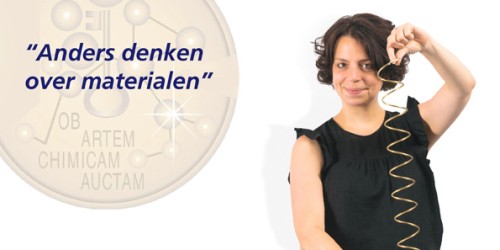 Monday 19 February 2018

13:24
Eind 2018 reiken wij weer de KNCV Gouden Medaille uit, de hoogste Nederlandse onderscheiding voor chemisch toptalent. Hiervoor is de KNCV op zoek naar geschikte kandidaten. Kent u iemand die in aanmerking komt om de huidige Gouden Medaille-winnares Nathalie Katsonis op te volgen? Meld hem of haar dan nu aan. Dit kan tot 1 mei 2018.
De KNCV Gouden Medaille is de belangrijkste Nederlandse prijs voor onderzoekers die zich bijzonder hebben onderscheiden op het gebied van chemisch speurwerk in de breedste zin. Voor de prijs komen onderzoekers tot veertig jaar in aanmerking van wie wordt verwacht dat zij leidend worden binnen hun vakgebied. De KNCV reikt sinds 1965 de Gouden Medaille uit aan chemisch toptalent in Nederland.
In 2017 won Nathalie Katsonis, professor Bio-inspired and Smart Materials aan de Universiteit Twente, de Gouden Medaille. De onderscheiding werd op 6 december 2017 uitgereikt tijdens CHAINS, het grootste chemiecongres van Nederland. Volgens de jury is Katsonis een uitmuntende chemica met een heel duidelijk eigen gezicht in zeer uitdagend onderzoek. "Ze is leading op het gebied van moleculaire schakelingen en motoren en heeft hier al indrukwekkende resultaten mee bereikt. Daarnaast is ze een zeer toegewijd onderzoeker die actief bijdraagt aan de ontwikkeling van wetenschappelijk onderzoek in Nederland. Daarmee is ze voor de KNCV een boegbeeld voor de chemie, nu en in de toekomst."
De inschrijving voor kandidaten voor de Gouden Medaille 2018 is nu geopend. Voordrachten kunt u tot 1 mei 2018 opgeven op: www.kncv.nl/goudenmedaille. Hier vindt u ook meer informatie en de voorwaarden.