Bas Dros de Slimste Scheikundige van Groningen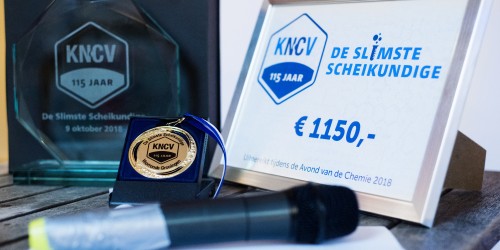 Wednesday 28 March 2018

10:35
Bas Dros, projectmanager bij Syncom B.V., is als winnaar uit de bus gekomen tijdens de tweede voorronde van De Slimste Scheikundige in Groningen.
Tijdens de kwalificatierondes wist het team van Dros, voor Wijnberg en Vaderland, al de meeste punten in de wacht te slepen. In de finale bleek Dros ook zijn teamgenoten de baas te kunnen en beantwoorde hij zeven van de tien finalevragen goed. Dros gaat nu door naar de finale op 9 oktober met Philip Freriks, waar hij zich gaat meten met de vijf andere regiowinnaars.
Wil jij ook je chemische kennis testen of gewoon een gezellige avond hebben met chemische vrienden? Meld je dan nu aan voor een van de resterende vier voorrondes in Terneuzen (9 april), Enschede (15 mei), Geleen (29 mei) of Oss (7 juni). Meer informatie en inschrijven: www.deslimstescheikundige.nl!