Timothy Noël wint de KNCV Gouden Medaille 2021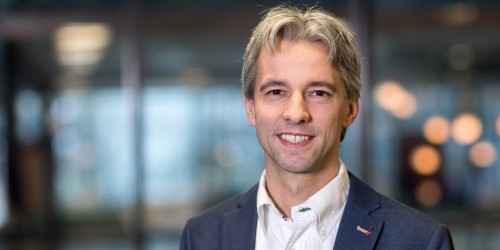 Monday 12 July 2021

08:38
Prof. dr. ing. Timothy Noël, professor Flow Chemistry aan de Faculteit der Natuurwetenschappen, Wiskunde en Informatica van de Universiteit van Amsterdam (UvA), wint de KNCV Gouden Medaille 2021. De prijs is de hoogste Nederlandse onderscheiding voor chemisch toptalent.
In het juryrapport wordt Noël omschreven als "een buitengewoon sterke kandidaat met een uniek profiel op het gebied van de flow chemie waarbij de grote nationale en internationale zichtbaarheid van zijn werk opvalt". De uitreiking van de KNCV Gouden Medaille vindt plaats in december tijdens de chemieconferentie CHAINS die dit jaar naar verwachting 'live' zal plaatsvinden in Veldhoven.

Timothy Noël studeerde scheikunde in Gent. Zijn postdoctoraal onderzoek deed hij aan het Massachusetts Institute of Technology (MIT) met een prestigieuze Fullbright-beurs. In de groep van professor Stephen L. Buchwald werkte hij aan de ontwikkeling van nieuwe continustroommethoden voor kruiskoppelingschemie. In 2017 werd hij universitair hoofddocent aan de Technische Universiteit Eindhoven. In 2020 volgde de benoeming tot Professor aan de Universiteit van Amsterdam. "Noël heeft een uniek profiel in de flowchemie, met een unieke combinatie van deelgebieden zoals organische synthese, katalyse, fotochemie en procestechnologie, dat in Nederland nog niet op deze manier bestond. Hij is een wetenschappelijk zwaargewicht, zeer vernieuwend en met een duidelijke nationale en internationale zichtbaarheid. Hij weet jonge mensen van over de hele wereld te inspireren, is een inspirerende docent en heeft cursussen en praktijkexperimenten ontwikkeld om zowel flow chemie in de chemische technologie als in het klassieke scheikundecurriculum op te nemen."
Ook op andere manieren viel de Gouden Medaillewinnaar op. Noël is reeds veelvuldig onderscheiden voor zijn werk. Zo ontving hij in 2015 een VIDI beurs van NWO. Zijn onderzoek naar fotochemie in microfluïdische reactoren werd bekroond met de DECHEMA-prijs in 2017 en de Hoogewerff Jongerenprijs 2019. Na 4 jaar als associate editor van Journal of Flow Chemistry werd hij in 2019 hoofdredacteur.
Noël werkt ook intensief samen met de chemische industrie, waaronder grote farmaceutische bedrijven (bijvoorbeeld Eli Lilly en AbbVie) en het MKB (bijvoorbeeld ThalesNano, Vapourtec).
Tijdens de KVCV-KNCV carrièreavond (20 april 2021) was Timothy Noël één van de sprekers. In deze YouTube-video kun je de avond terugkijken waar Noël vertelt over de weg naar zijn huidige positie als professor.