Life Science Tuesday Series: Biomolecules in/for the 21st century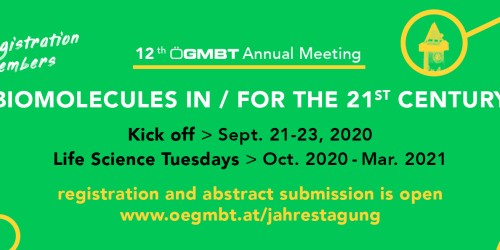 Friday 16 October 2020

09:34
The Austrian Association of Molecular Life Sciences and Biotechnology (ÖGMBT) organizes a series of online events on Tuesdays. Each event includes a keynote speaker, short talks, science flashes by young talents.
Biomolecules in/for the 21st century
During the bi-weekly Life Science Tuesdays, you will spend an afternoon together focussing and interacting on specific topics – centrepieces will be invited talks, short talks, "Science Flashes" in lieu of posters, workshops/webinars and the VirtualExpo. More info about the topics and speakers can be found here.
Abstracts from and participation by life scientists from all over Europe are welcome! The registration includes participation at all Life Science Tuesdays until March 2021, an online format supported by FEMS & FEBS.

Registration fees are affordable - see https://oegmbt.at/jahrestagung/online-registration