Vraagbaak scheikunde gelanceerd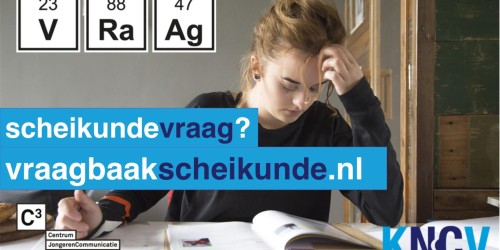 Thursday 09 April 2020

13:09
Vanaf vandaag kunnen scholieren al hun scheikundevragen stellen op de online vraagbaak scheikunde. Een expertteam van KNCV-leden staat dagelijks van 10.00-22.00 uur klaar om scholieren te helpen.
Samen met Centrum JongerenCommuniatie Chemie (C3) hebben we de afgelopen twee weken gewerkt aan realisatie van dit initiatief om thuisscholieren te helpen bij het vak scheikunde. Op vraagbaakscheikunde.nl kunnen zij met al hun scheikundevragen terecht. Een antwoordpanel van studenten, (oud-)scheikunde-docenten en professionals uit de chemie zit zeven dagen per week klaar om vragen op scheikundegebied te beantwoorden.
Marijn Meijer, directeur C3 licht toe; 'Vanaf nu beginnen de laatste schoolonderzoeken havo/vwo. Om de scholieren in deze bijzondere tijden een steuntje in de rug te bieden, hebben wij samen met de KNCV deze vraagbaak opgericht.'
Jan-Willem Toering, directeur van de KNCV: 'Tientallen leden van de KNCV reageerden gelijk enthousiast op de oproep om de scholieren te helpen met hun vragen. Het was geweldig om met zoveel betrokken leden in zo'n korte tijd én onder deze omstandigheden dit nieuwe initiatief te ontwikkelen.'
Schieren van alle schoolniveaus kunnen met hun vragen over scheikunde of NaSk2 terecht bij de vraagbaak op mijnscheikunde.nl. Aan het einde van dit schooljaar volgt een evaluatie en wordt gekeken of dit initiatief een vervolg krijgt.