Pitch je poster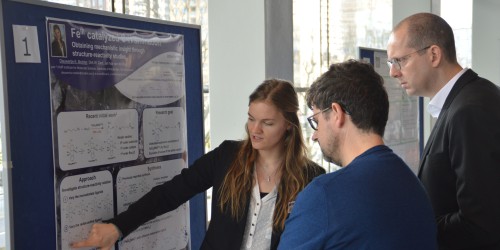 Wednesday 05 February 2020

10:16
Als student ontkom je er niet aan, je moet onderzoek doen én erover presenteren. Wil je hier graag mee oefenen aan de hand van een poster? Of vind je presenteren gewoon heel erg leuk? Doe dan mee met één van onze wedstrijden en maak kans op een geldbedrag tot wel €500,-!
Voor wo-studenten is er de Jong KNCV Posterwedstrijd. Deze wedstrijd vindt plaats sinds 1999 plaats bij het PAC-symposium, dit jaar op donderdag 5 maart in Leiden. De wedstrijd biedt studenten de gelegenheid hun stage- of afstudeeropdracht te presenteren met een poster. Ook kunnen deelnemers aan de posterwedstrijd het speciaal voor studenten georganiseerde PAC-symposium bezoeken. Na de slotlezing van dit symposium worden de, door vakjury gekozen, winnaars bekend gemaakt.
Aanmelden Jong KNCV Posterwedstrijd
Voor hbo-studenten is er de Applied Science Poster Competition. De KNCV, NIBI en DAS dagen je uit de resultaten van je onderzoek met een poster te presenteren aan de deelnemers van de DAS conferentie én een jury van onderzoekers en vertegenwoordigers uit het bedrijfsleven. De posterwedstrijd vindt simultaan aan het DAS conferentieplaats en deelnemers aan de posterwedstrijd kunnen ook deelnemen aan dit symposium. Het DAS symposium met de posterwedstrijd is op donderdag 26 maart in Utrecht.
Aanmelden Applied Science Poster Competition
Bij beide posterwedstrijden maak je kans op één van de volgende prijzen:
Eerste prijs €500,-
Tweede prijs €250,-
Derde prijs €150,-
Publieksprijs €100,-