Ontdek jouw chemie voor de klas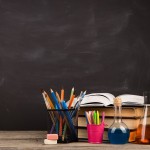 Monday 06 January 2020

16:36
Na een succesvolle eerste editie organiseren we opnieuw "Chemie voor de klas", een informatieavond over werken in het onderwijs. Op drie locaties in februari en maart kun je ontdekken of jij chemie hebt voor de klas. We komen naar Den Haag, Amersfoort en Nijmegen.
Gezien het succes van vorig jaar, willen we graag meer mensen bereiken en informeren over hoe het is om in het onderwijs te werken als scheikundedocent. Er zijn namelijk meer mogelijkheden dan je misschien in eerste instantie denkt. Zo kun je, behalve lesgeven op de middelbare school, ook lesgeven op het mbo of hbo. En daarnaast zijn er ook goede mogelijkheden om deeltijd aan de slag te gaan, en hoef je niet je huidige werk meteen achter je te laten.
Ben je ook nieuwsgierig om in het onderwijs te werken? Kom dan naar één van de volgende dagen:
Donderdag 6 februari in Den Haag
Woensdag 12 februari in Amersfoort
Dinsdag 10 maart in Nijmegen.