Stichting Stimulering Biochemie Nederland (SSBN)
De Stichting Stimulering Biochemie Nederland (SSBN) ontstond in 2002 door de samenvoeging van twee stichtingen, die de batige saldo's beheerden van twee internationale congressen, die onder auspiciën van de NVBMB in het RAI-congrescentrum te Amsterdam waren gehouden:
het 13th IUB Congress in augustus 1985;
de Special FEBS Meeting in juni/juli 1997.

De SSBN heeft als doelstelling om in Nederland wetenschappelijke activiteiten te bevorderen op het gebied van de biochemie en de moleculaire biologie. De stichting tracht dit doel te bereiken door het beschikbaar stellen van reisbeurzen en door het jaarlijks uitreiken van de H.G.K. Westenbrink-prijs.
Nora Baart Stichting (NBS)
The Nora Baart Foundation was initiated as part of the last will of Nora Baart, born in Haarlem 1931. She studied medicine, probably in Leiden, and afterwards went to the US to study the biochemistry of cholinesterase. Nora Baart co-authored on 6 peer-reviewed publications in the years 1957-1959, including two publications in Science, on inhibitors of this enzyme to allow a more functional anaesthetics. No doubt that these studies stimulated her interest in medical biology, which spurred her wish to support students in the medically oriented molecular life sciences through the foundation coordinated by the NVBMB. After her years at the Mercy Hospital and Department of Surgery, University of Pittsburgh School of Medicine in Pennsylvania, she went to the Biochemistry Department of Leiden University were she worked for two periods ('57-'62 and '71-'76). She lived in the Leiden area till her death in 2006. Next to supporting the biochemistry Nora Baart's legacy is continued in many other foundations supporting local, national and international funds for arts, health, nature and education.
Federa (Federatie van Medisch Wetenschappelijke Verenigingen; FMWV)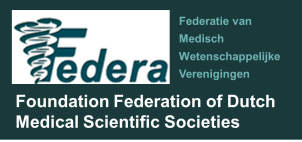 The NVBMB is a member of the Federa (Foundation Federation of Dutch Medical Scientific Societies). Federa aims to represent scientific biomedical societies by promoting interdisciplinary communication through an annual thematic conference and self-regulation. The Federa bundles 30 scientific biomedical societies with all together 10,000 members and coordinates about 20 organizations in COREON.
Buitenland
1. Federation of European Biochemical Societies (FEBS)
Het Bestuur van de FEBS wordt gevormd door een "Executive Committee" met als hoogste bestuursorgaan de FEBS Council. De laatste bestaat uit vertegenwoordigers van alle aangesloten landen (1 per land) en komt jaarlijks bijeen tijdens de FEBS Meeting. Contactadressen van de Europeese zusterverenigingen kunnen gevonden worden op de website van FEBS:


2. International Union of Biochemistry and Molecular Biology (IUBMB)
De IUBMB behartigt de belangen van de biochemie in internationaal verband en streeft naar internationale samenwerking van biochemici. De IUBMB is lid van de ICSU (International Commission of Scientific Unions). Leden van de IUBMB zijn de nationale "Adhering Bodies". Dit kunnen zowel biochemische verenigingen zijn als andere biochemische organisaties. Voor Nederland is de CBB "Adhering Body". De IUBMB telt momenteel 51 leden en 3 geassocieerde organisaties en 18 speciale industriële leden. Het Bestuur van de IUBMB wordt gevormd door een "executive committee" van 9 personen. Het hoogste beleidsorgaan is de General Assembly, bestaande uit vertegenwoordigers van de aangesloten landen, welke eens per 3 jaar vergadert.

3. European Molecular Biology Organization (EMBO)
EMBO is in 1964 opgericht met steun van 17 Europese landen en Israel. De organisatie heeft ongeveer 500 gekozen leden waaronder ± 20 Nederlanders. Jaarlijks worden ± 25 nieuwe leden via ballotage gekozen. Het bestuur wordt gevormd door de EMBO Council. De European Molecular Biology Conference, bijgewoond door vertegenwoordigers van de deelnemende regeringen, beslist over het beleid op lange termijn en de financiële steun (in 1981 8,5 miljoen DM). Het doel van EMBO is de bevordering van de moleculaire biologie in Europa door middel van internationale samenwerking. EMBO organiseert jaarlijks ongeveer 20 workshops en 20 courses welke in het C2W life sciences worden aangekondigd. Ook wordt een jaarlijks symposium gehouden in Heidelberg en verleent de organisatie beurzen, jaarlijks ongeveer 250 short term en 150 long term fellowships (aanvraag in Heidelberg bij het sekretariaat). Sinds enige jaren wordt ook een wetenschappelijk tijdschrift, EMBO Journal, uitgegeven. In 1977 werd het European Molecular Biology Laboratory (EMBL) in gebruik genomen.


Just as many women as men start out on life science careers. But many more men go on to senior academic positions. The reasons why are complex. In the best interest of the scientific endeavor it is important that the best scientists have the opportunity to pursue a career, and that it is not gender (or any other secondary characteristic) that determines the chances of success.
At EMBO, we are committed to monitoring gender balance in all our activities, developing initiatives to counteract imbalances and to raising awareness of issues facing women scientists as their careers advance.
This site includes a database that aims to help scientists, universities, research institutions, political institutions, conference organizers and journal editors to identify appropriately qualified women scientists:
as candidates for professorships and other positions
to speak at conferences and in seminar programmes
to participate in advisory groups, on monitoring panels, committees and commissions
to review manuscripts, to write commissioned reviews and to serve on the editorial boards of journals.